The British refer to the mound of cake encircled by fresh and dried fruits, nuts, and rum or brandy as Christmas Pudding, whereas Americans refer to it as a fruitcake. British chefs might be found cooking the dessert anytime between September and November, the earlier the better. It is traditionally served with the Christmas supper. A minimum of seven hours are spent steaming the pudding before it is hidden away in a cool place to wait for its debut months later. Although you can reheat Christmas pudding in a microwave, steam heat is still the preferred method for producing the greatest results.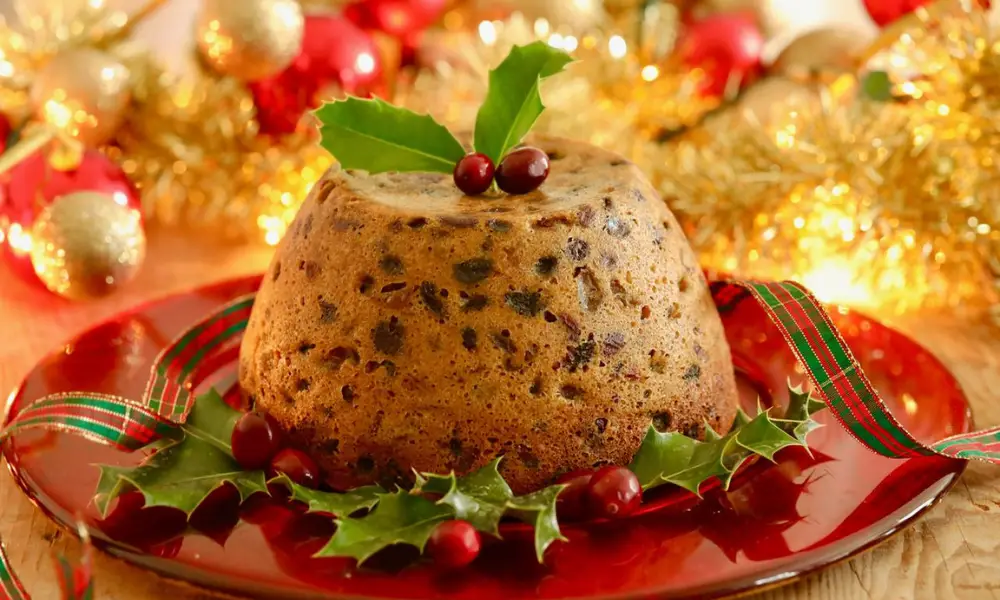 What is Christmas Pudding?
Christmas pudding is a delicious dried fruit pudding that is typically served as a part of the holiday meal in Britain and other nations where the custom has been imported. Early versions of the dish were created in medieval England using ingredients including dried fruit, suet, breadcrumbs, flour, eggs, and spices along with liquids like milk or fortified wine. Later, recipes become more complex. The earliest recipe for what Eliza Acton, a cooking author, referred to as "Christmas pudding" was published in 1845.
The dish is occasionally referred to as plum pudding (though this can also refer to other kinds of boiled pudding involving dried fruit). Since the 18th century, the name "plum" had been interchanged with what we now refer to as "raisin," and the pudding does not actually have plums in it.
How to Reheat Christmas Pudding?
Let's be clear about one thing. Christmas pudding is not a mass of fruity goop served as a dessert at Christmas. Reheating the expertly crafted and sculpted mound requires care and consideration. Christmas pudding can be warmed up in three different ways:
​Stovetop​
When you wish to reheat the pudding, Atco Blue Flame Kitchen suggests keeping it in the original Christmas pudding saucepan. Wrap foil tightly around it. Fit the pot into a big saucepan after setting it on a trivet.
Boiling water should reach halfway up the side of the saucepan, and it should steam for approximately one hour.
If the water level drops, make sure it stays constant and replenishes with boiling water. Before unmolding, remove the pudding pot and let it cool.
The Steam Oven
A Christmas pudding may easily be reheated thanks to the invention of the steam oven. Instead of placing the pudding in a stovetop oven set to reheat it, use a steam oven that is preheated to 212 degrees Fahrenheit. The pudding needs to be reheated for about an hour before it is ready to be served.
Microwave​
If you intend to reheat Christmas pudding in the microwave, prepare it in a microwave-safe bowl rather than a ceramic one because the ceramic gets too hot to handle.
If your Christmas pudding pot is covered in foil, take it off and cover it loosely with plastic wrap.
Make a few holes in the plastic wrap before putting it in the microwave for about 3 minutes on high. Dove's Farm advises removing the plastic wrap and letting the food sit for two minutes. Invert the pudding onto a platter placed over the pudding pot, then let go.
Nigella Lawson, a British chef, advises against rewarming the pudding in the microwave more than twice.
How to Light your Christmas Pudding on Fire (Safely)?
Your Christmas pudding is prepared and ready to be served, now it's time for the big reveal. the pudding onto a warmed serving plate after first unmolding it (see below for more details).
Before proceeding to the following step, remember to remove and discard the paper lining.
To add some drama, turn out the lights while making sure you can clearly see the flames.
In a tiny pot (one with a long handle is best), warm 2 to 3 teaspoons of brandy. Before burning the brandy, make sure it is good and hot.
Before entering the dining room, carefully light the brandy with a lit match and pour it over the pudding.
Set your creation proudly (and once more, gently!) on the table and marvel as the flames go out before serving.
How to Present your Christmas Pudding?
The traditional pudding bowl is a well-made, attractive ceramic dish with a thick rim that you may tie a cloth or foil cover to. Pudding bowls can be found if you look for them. In general, they make good mixing bowls and are ideal for summer pudding. For this pudding, which serves 8 to 10, size #24 is required. However, since you would like to have both sizes in your kitchen, you might as well purchase size #30 as well.
For this pudding, use a 2-quart Pyrex or another heatproof bowl as a workaround. In an emergency, a stainless-steel bowl will work, but it lacks the original appearance and tends to float in the steamer until you lower the water level, necessitating more regular water replenishment.
How to make Christmas Pudding at Home?
25 grams (about half a cup) chopped, mixed candied fruit peel
Peel, core, and finely slice 1 small cooking apple.
10 grams of orange zest
0.5 teaspoons of lemon zest
two teaspoons of orange juice, fresh
1 tablespoon of lemon juice, fresh
14 cup brandy, plus more if necessary
0.5 cups (55 grams) of sifted self-rising flour
one teaspoon of ground spices
1 1/2 teaspoons of cinnamon powder
110 grams (about 1 cup) 110 grams (scant 2/3 cup) of shredded beef or vegetarian suet 110 grams of dark brown sugar packed (1 cup) brand-new breadcrumbs
2 large eggs, 25 grams (1/4 cup) of finely chopped whole almonds
Actions to Take
Assemble the components.
In a sizable mixing basin, combine the dried fruit, candied peel, apple, orange, lemon juices, and zest. Stir well before adding the brandy. Leave the bowl covered with a fresh tea towel to marinate for a few hours, ideally overnight.
Butter a 2 1/2 pint pudding bowl sparingly.
Combine the flour, cinnamon, and mixed spices in a sizable mixing basin. Suet, sugar, breadcrumbs, and almonds are now added. Continue stirring until all the components are thoroughly combined. Stir once more before adding the marinated dried fruits.
Lightly whisk the eggs in a small bowl before immediately incorporating them into the dry ingredients. The combination ought to be pretty soft to the touch.
Pour the mixture into the greased pudding bowl and use the back of a spoon to gently press the mixture down. Cover with two layers of baking parchment or greaseproof paper, followed by a layer of aluminum foil. Securely fasten with string by first wrapping it around the basin, then looping it over the top and back around the bowl. This will create a handle that can be used to lift the pudding out of the steamer.
For seven hours, steam the pudding in a steamer that has been set over a pot of simmering water. Make sure to periodically check the water level to prevent boiling dry. When cooked, the pudding should be a deep brown hue.
After cooling fully, remove the pudding from the steamer. Take off the paper, skewer the pudding a few times, and add a bit extra brandy.
Retie with string and cover with new greaseproof paper.
Keep until Christmas Day in a cool, dry area for at least 4 to 5 weeks. Reheat the pudding by steaming it for about an hour on Christmas Day. Enjoy!
Tips
As opposed to the other way around, make sure to zest your oranges and lemons before juicing them.
For this traditional pudding recipe, which needs at least 4 to 5 weeks to mature and mellow, it should go without saying that you need to make preparations in advance.
Tips for Reheating and Storing
A Christmas pudding needs to be rested, then heated on Christmas Day in a cold, dry location.
Reheat the pudding by steaming it for about an hour on Christmas Day. Serve with custard, brandy sauce, or brandy butter.
Christmas pudding that has been left over can be heated thoroughly in a hot oven after being refrigerated or frozen (with good packing).
Reference: The Adventure of the Christmas Pudding
When is Christmas Pudding Served?
The original dessert to prepare ahead of time is traditional Christmas pudding. It should be prepared five weeks before Christmas, on the final Sunday of Advent.
Until Christmas day, the pudding should be kept in a cold, dry location. All that is required is a quick reheat before serving. This not only saves you time on Christmas day but also allows the flavors to develop.
Conclusion
Christmas pudding is a traditional Christmas treat and can be used a second time if it is refrigerated overnight. Reheating it in the microwave is an easy way to bring it back to its original temperature. Before placing it in the microwave, wrap it tightly in clingfilm or plastic wrap and poke several holes in it. Microwave it for four to five minutes on full power or seven minutes on low. Once it is hot enough to touch, unmould and serve.
To reheat Christmas pudding in the microwave, follow these steps: Put the pudding in a microwave-safe container with a wire twist tie around it. Microwave the pudding on a low level for between five and ten minutes. You should check the temperature halfway and top up the water if necessary. When the pudding is ready, remove it from the water and run a warm knife around the inside edge. Once it has cooled slightly, invert it onto a warm plate. Keep warm until you are ready to serve.