If you intend to freeze your green beans, you must first learn how to blanch them. Some vegetables aren't the best out of the freezer, but green beans aren't one of them! Green beans are one of our favourite frozen vegetables since they keep their texture and flavour even after freezing, making them a terrific way to add some summer flavour to your dish all year.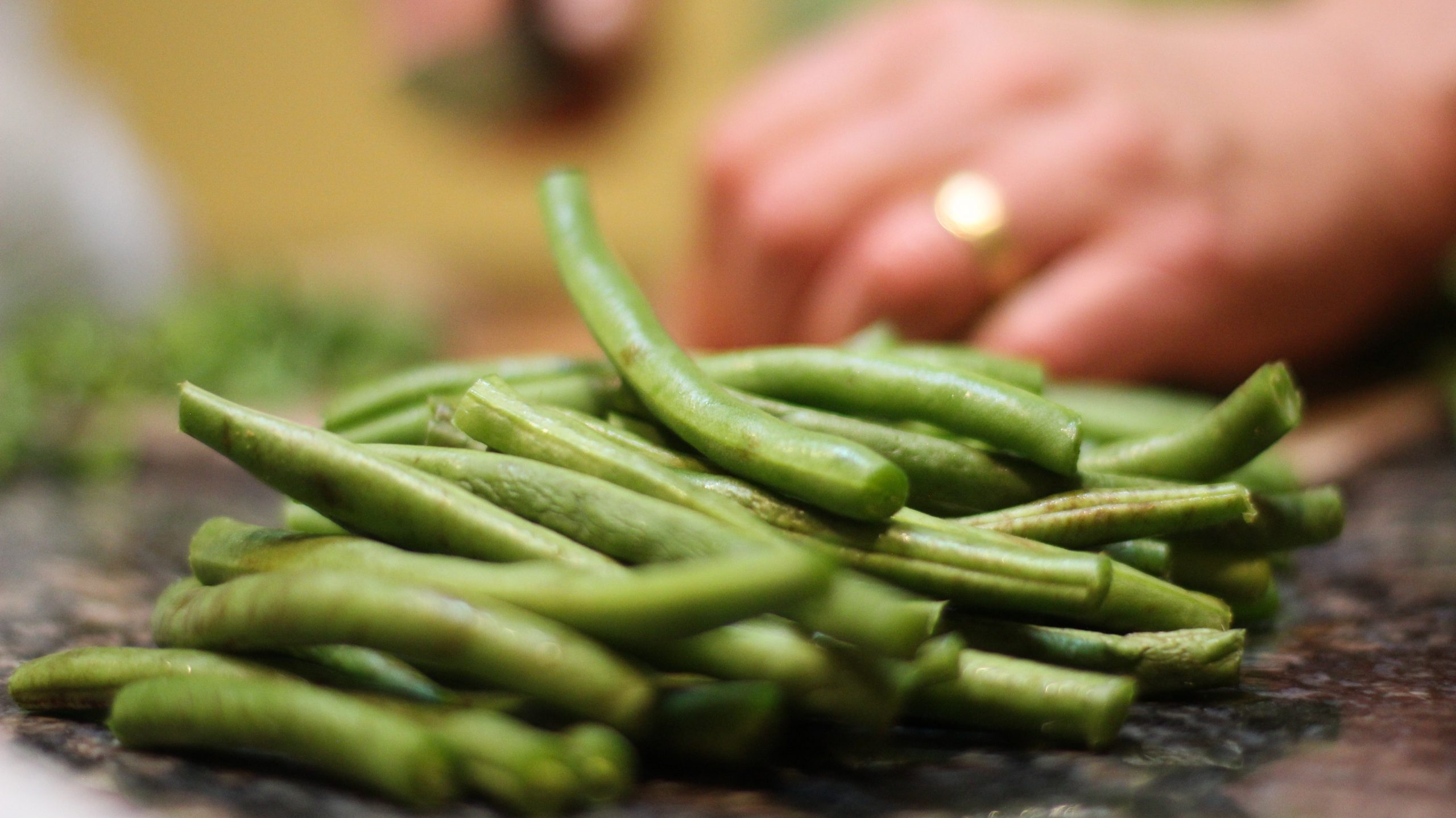 Green beans are simple to freeze and keep for several months, allowing you to enjoy the flavour of garden-fresh sweetness even when it's colder outside than inside your freezer. Furthermore, frozen green beans are a convenient and delectable complement to various meals. Follow these step-by-step instructions to learn everything you need about freezing green beans so you can enjoy them anytime.
What is Blanching?
Blanching is a food preservation technique that is commonly used with frozen vegetables. It helps your produce retain flavour, colour, and texture, resulting in more delicious dishes later!
Blanching fruit or vegetables involves immersing them in boiling water for a brief period (typically a couple of minutes or less!) and then placing them in an ice bath to stop the cooking process. You can continue freezing your fruit once they are cool enough to handle.
How to Blanch Green Beans to Freeze Them?
Freezing is one of the finest ways to preserve green beans for later use. Green beans are a practical and well-liked component of many recipes. Green beans are blanched briefly in boiling water before freezing to ensure that they will maintain their original texture and colour when you cook with them. Frozen green beans are more nutrient-dense than pressure-canned beans.
With this technique, the green beans are frozen in a single layer at first to avoid clumping. When you have a big container of frozen green beans but only need half of it for a dish, the fact that they stay loose is a huge benefit.
Prepare Green Beans
Before you begin freezing beans, gently wash fresh greens beans with cool tap water. Then, working with just a few green beans at a time, align the stem ends. Remove the stems using a sharp chef's knife, and continue with the remaining green beans. You can even trim the tapering tail ends if desired.
Cut the Beans into Small Pieces
Cut green beans are used in various cuisines, including soups and casseroles. You can save yourself later by cutting them into 1-inch pieces before freezing the beans. You can also freeze the beans whole and then cut them later if your green bean recipe requires them. It's entirely up to you!
Blanch the Green Beans
Green beans are blanched for freezing by first boiling them in water for a short period, followed by submerging them in ice water. Green beans can be frozen fresh, so why bother blanching them first? Thanks to this fast extra step, the beans will retain their colour and flavour in your freezer.
Bring water in a big pot to a rolling boil. For every pound of green beans, use 1 gallon of water. Fill a big dish with ice water while you wait for the water to be ready for blanching green beans.
Carefully lower the green beans into the boiling water in stages. Boil small beans for 2 minutes, medium beans for 3 minutes, and huge beans for 4 minutes.
Put the beans in ice water to cool them quickly. Drain the beans from the ice water once they have cooled.
Note- Transfer beans to ice water using a slotted spoon or a wire skimmer, frequently dubbed a "spider" (this will immediately stop cooking and preserve their bright green colour).
Prepare the Beans for Freezing
Place the drained beans in jars, storage bags, or other containers that may be frozen. To compact the beans, shake each package. If using a jar, add extra beans, leaving a headspace of 1⁄2 inch. Before formally freezing fresh green beans, wipe the rims and storage containers dry. Remove as much air from the bags or containers as possible, then seal them with the manufacturer's recommendations. Use freezer tape across the lid's edges for a secure seal, if necessary.
Freeze the Green Beans
Each container or bag should be marked with the contents, quantity, and date. To ensure quick freezing, lay the bags flat and add them to the freezer in batches. Provide some space around to allow air to circulate in bags or containers. The bags or containers can be positioned closer together once frozen solid. Use your frozen green beans for the greatest flavour within eight months of freezing.
How do You Choose Green Beans for Freezing?
You want to be picky for the freshest flavour when selecting green beans to freeze from your garden or the farmer's market. You'll generally have the most success with green beans you purchase from May to October. However, you can always get delicious green beans in the grocery store. Avoid green beans that are limp or have withered ends, and opt instead for crisp, colourful beans that are free of blemishes.
How Long Can Frozen Green Beans be Stored?
Green beans can last long in the freezer, depending on the container you used to freeze them. While frozen green beans can survive up to 8 months, fresh green beans should be consumed within 3 to 5 days when kept in the refrigerator. You can therefore take advantage of them all year long.
Should Green Beans be Trimmed before freezing?
You are free to freeze green beans of whatever size you choose. Trimming the stem end is a must every time, and trim the bottom end if it seems dried out. After that, you can either cut them into little pieces for soups and stews or leave them long for side dishes that include green beans.
If you have a lot of green beans to freeze, it could be beneficial to freeze them in various shapes and sizes so you can use them in various dishes all year long.
How to Use Frozen Green Beans?
Green beans that have been frozen can be utilized immediately; there is no need to thaw them first. Remove them from the freezer and incorporate them immediately into your meal, whether adding them to casseroles, stir-fries, soups, or stews or simply eating them on their own. The only adjustment needed is to shorten the cooking time by around 3 minutes when the recipe calls for cooking the green beans first because you had blanched them before freezing.
What are the Best Containers for Freezing Fresh Green Beans?
There are many ways to store fresh green beans, and which one you go with will depend on your freezer space requirements, how you want to utilize your frozen green beans, and whether you like glass or plastic. Here are some of our top choices:
Glass Food Storage Containers—Glass containers are an excellent choice if you have a chest or upright freezer because they stack well. I also enjoy that you can see what's inside the containers—something there's extremely fulfilling about having glass containers full of gorgeous food lined up in your freezer. While these can be reused, they take up more space. These containers may not be your best option if you have limited freezer space.
EatNeat 5-Piece Glass Food Storage Containers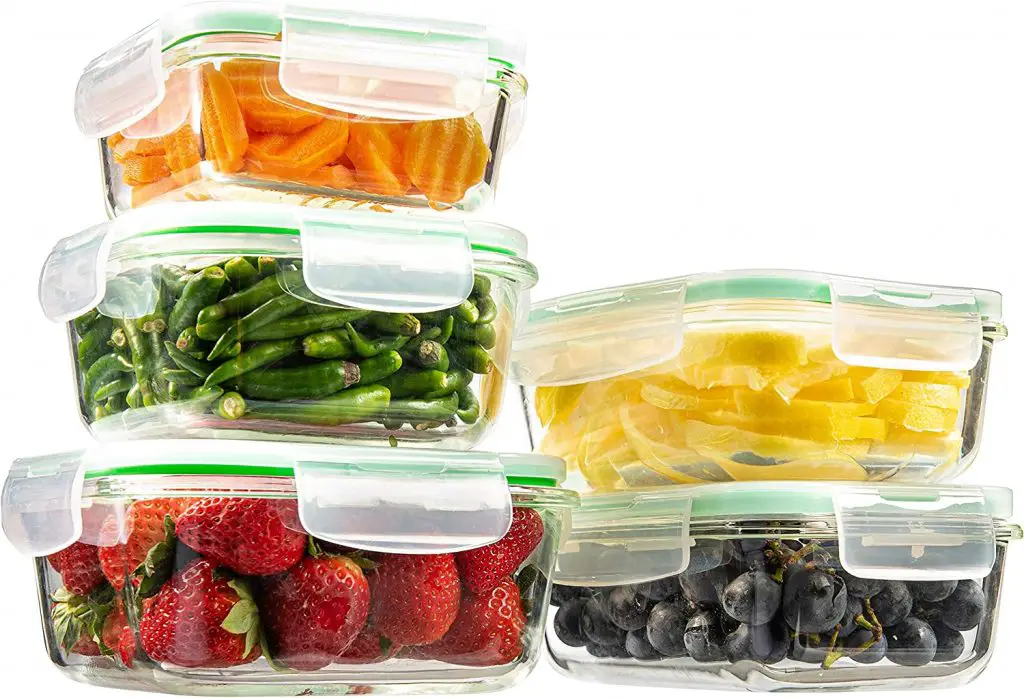 Features
THE CLEAR CHOICE IS GLASS: When it comes to your home, don't settle for plastic food containers. Our borosilicate glass containers are made to last a lifetime and don't leach anything into your food. They're the ideal option for you and your family.

PERFECT PORTIONS: portion control is key: Whether you're making lunch for the kids or eating for maximum muscle gains. Our meal prep containers are sized at 12, 18, 20, and 27 oz, so you can be sure you're getting exactly the amount of food you need.

AIRTIGHT LOCKING LIDS: The seal is what sets these airtight containers apart. We use premium-grade silicone that won't dry out or crack, and the snapping lids make these meal prep containers easy to use. Our seals keep your food fresher for longer!

SAFE FOR THE DISHWASHER, FREEZER, OVEN, AND MICROWAVE: Thanks to their high borosilicate thick glass construction, our glass food storage containers are safe for extreme temperatures of up to 600°F. They're perfect for all your food storage and preparation needs.

MAKES A GREAT GIFT: What better gift than easier meal prep? Our air-tight sealable containers are the perfect choice for weddings, housewarmings, bridal showers, birthdays, Christmas, graduations, and more. They come in gift packaging to make gifting easy!
Glass Canning Jars—Mason jars are an inexpensive, reusable choice that can fit into tighter spaces than the storage containers mentioned above. Choose straight-sided jars (those with no curving shoulders at the top), as they are safer to freeze.
12 Pack Glass Canning Jars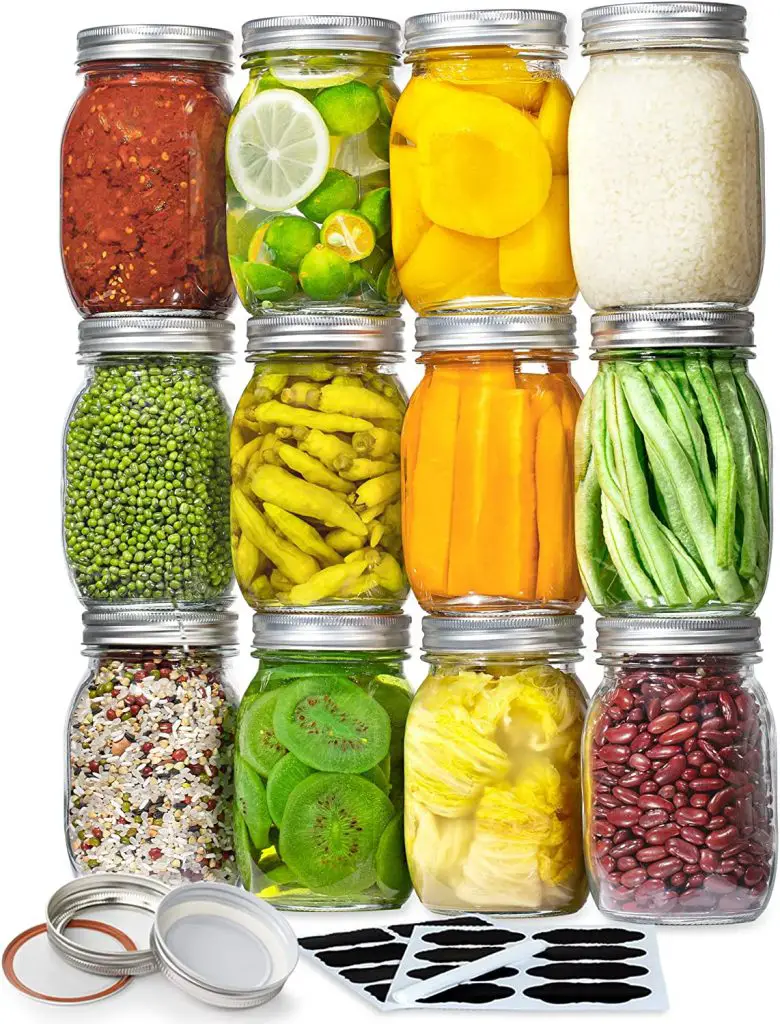 Features
Perfect Size for Canning & Meal Prep —- 16 oz glass mason jar is the perfect size for canning homemade sauerkraut, pickles, sauces, jams, juicing, preserves, tomato sauces, and a variety more. Also great for meal prepping and taking foods on the go such as salads, leftovers, overnight oats, chopped fruits and veggies.

Include two kinds of Airtight Lids —- The package includes 12pcs one-piece lids and 12 sets of lids and bands, which could meet your multiple demands. Made of metal material, these lids can be used many times. Screw-on lid with a silicone liner that ensures an airtight seal, which will keep beverages tasting fresh and prevent dry foods from going stale

Regular Mouth —- Wide opening (2.7-inch diameter) on the glass jar makes it easy to scoop out items. The silver caps make for very elegant closures for many products. The wide mouth allows easy accessibility to the bottom of the mason jar for easy and thorough cleaning by hand with a wet cloth.

Multiple Use —- With wonderful imagination and innovation, you can use these mason jars in multiple ways. Besides canning and fermenting, they are great for storing dry food such as sugar, beans, spice, oats, pasta, cookies, and candy. You also can do your DIY project or home decoration with these mason jars.

Sturdy and Clear Jars —- Made of premium BPA-free, durable food-grade glass, these canning jars are sturdy enough for everyday home use. They are clear, so you can easily identify the contents at a glance. Extra 16pcs chalk labels help you label these jars much easier. They're a handy, multi-purpose item for your home and kitchen.
Vacuum Sealing Bags—These bags take up the least space of any storage solution on this list and have the longest freezer life. You will need to purchase specialized equipment to use these, so you must consider whether you want to make that expense. If you only need a few green beans at a time, skip the vacuum sealing—difficult it's to reseal the bags once they've been sliced open!
O2frepak 200 Quart Size 8″ x 12″ Vacuum Sealer Bags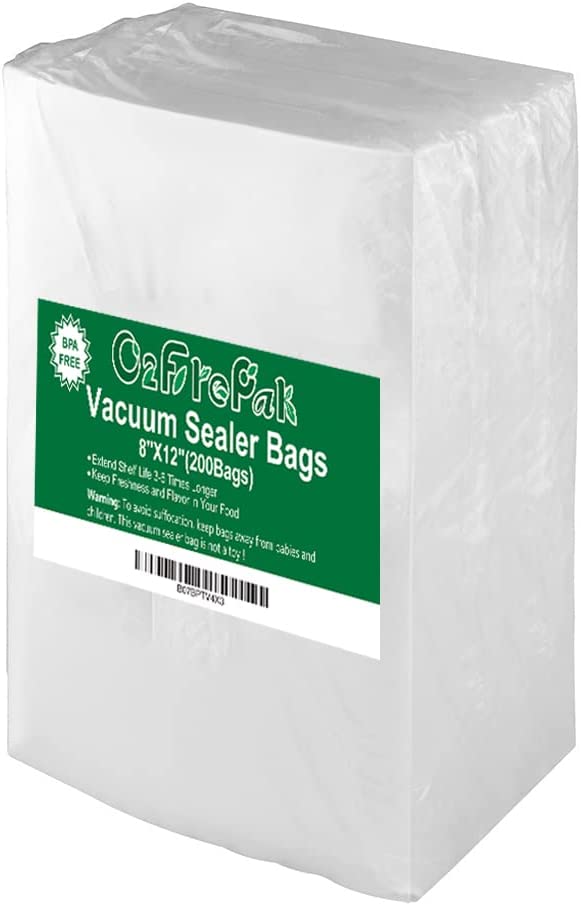 Features
Universal Design: Compatible with All 'Clamp Style' Vacuum Sealer Machines

Economical and Precut Bags:200 Count 8 x 12 Quart Size Food Storage Vacuum Sealer Freezer Bags

Food Grade Material: Great for Storing Raw and Cooked Foods; it's Also Cook, Freezable, Dishwasher, Microwave, and Boilable Safe. with Embossed Channels, Increase Suction to Vacuum and Secure to Seal

Long Term Preservation: Extend Food Shelf Life 3-6 Times Longer, Keep Freshness, Nutrition and Flavor in Your Food. Eliminates Freezer Burn and Dehydration, Air and Water Proof Material Prevents Leaking

Heavy Duty and Puncture Prevention: Designed with Food Grade PA+PE Material,3.5mil Front Panel and 4milTextured or Embossed Back Panel for Maximum Freshness, with Bone Guards to Prevent Piercing
Zip-top Freezer Bags — Pros: These are the least expensive option and take up less space than the glass alternatives. Cons: They are made of single-use plastic, and your frozen food will not survive as long as in other containers.
For green beans, I almost always use vacuum sealing bags, and I freeze green beans in the exact amount needed to make a dinner side dish. I also normally do one larger zip-top freezer bag so I can easily grab handfuls to toss into soups and stews throughout winter.
Do You Need to Thaw Frozen Green Beans Before Using?
Everything is based on the recipe. Thaw them if your recipe instructs you to, in that case. If not, it's not necessary. This is especially true when they use stews with chickpeas, curries, or vegetable soup, and they can be added directly from the freezer bag.
Knowing the size of green beans, you will use the most frequently before freezing them is helpful for this and other reasons. Cooking is much simpler when you can pull frozen, ready-cut green beans out of the freezer.
Conclusion
Green beans are a delicious, wholesome, and adaptable culinary staple. For several reasons, blanching veggies before freezing them is a crucial step. By halting the enzymes that cause rotting, blanching preserves the nutrients, bright colours, and authentic texture of the veggies. Lacklustre textures, off-tastes, and faded and faded hues will occur from skipping this stage.
Green beans should be frozen as soon as possible. Check the skin for deep lesions that might indicate they are starting to deteriorate. Green beans can be frozen fresh, but they are more likely to cook up mushy and lack flavour. It is also worthwhile to blanch beans if you have trouble trimming and freezing them for long-term storage.